Balloon Twisting / Balloon Artists
Hire Balloon artists, balloon twisters, balloon animals, and balloon masters.
COLORFUL BALLOON TWISTING
Balloon

artists

create an

atmosphere

of

excitement at

any event.
Have our artists inflate your imaginations with unique balloon creations. Our professional balloon artists can create anything your heart desires.
Balloon Twisters and Balloon Artists are available for any event, holidays, birthday parties, restaurants, festivals and much more.
Our Balloon Artists are booked by the hour and can be booked as a stilt walker, a roaming artist, or at a colorful kid friendly booth.
Party packages available with a face-painter.
Animals
Dogs, Cats, Bunnies, Butterflies, Ladybugs, Tigers, Lions, Giraffes, Bears,  Elephants, Chickens, Pigs, Ducks, Turkeys, Cows, Monkeys, Parrots, Dragons, Unicorns, Mermaids, Dinosaurs, Snakes, Alligators, Fish, Baby Shark, Penguins, Narwhals and more!
Other Creations
Flowers, Hats, Bracelets, Guitars, Swords, Wands, Bow and Arrows, Superheros, Princesses, Cartoon Characters, Costumes, Jet-packs, Cars, Motorcycles and much more.
Balloon Sculptures, Arches, Columns, and Themed decorations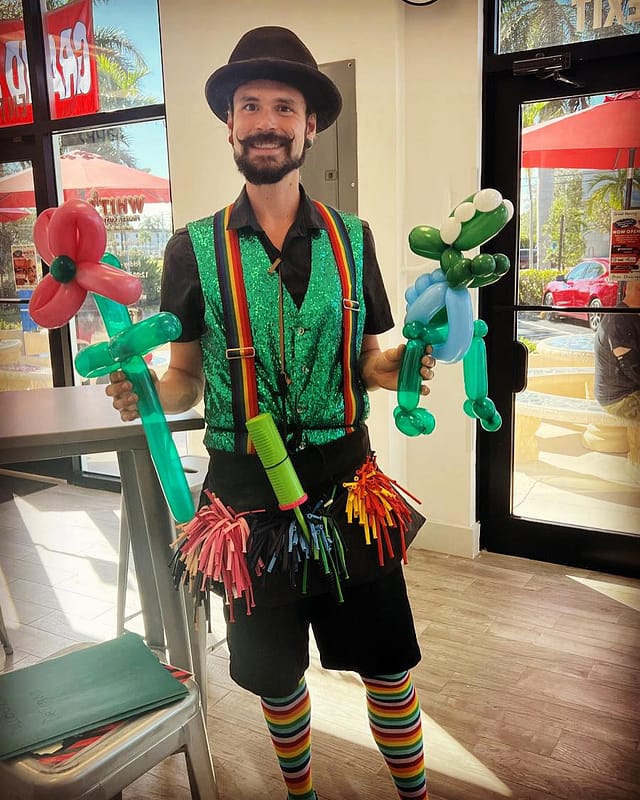 South Florida Entertainment for the stage, theater, private events, trade shows, corporate events, holidays, parties, and more.